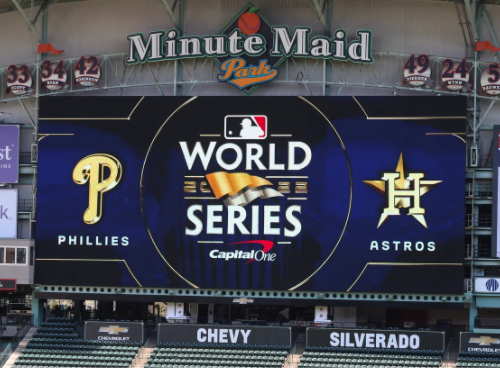 The 2022 MLB postseason was filled with unexpected finalists and drop-outs.  All eyes were on last year's World Series finalists, the Atlanta Braves and the Los Angeles Dodgers. Little did the MLB world know that the Houston Astros and Philadelphia Phillies would rise to the occasion and qualify for the 2022 World Series, for a chance to take home the Commissioner's Trophy. 
The Houston Astros were considered the favorites in the World Series as they have had consistent appearances in the playoffs and went undefeated this postseason, beating both the Seattle Mariners and the New York Yankees.
Their competition, The Philadelphia Phillies, were labeled as the underdog of the two teams, starting the postseason seeded last on the National League side of the bracket.  The Phillies hadn't gotten to the postseason since 2011 and hadn't won a World Series since 2009 against the New York Yankees.  
Although they had a formidable offensive lineup with Kyle Schwarber, Rhys Hoskins, and J.T. Realmuto, their wild success nonetheless came as a surprise.  The Phillies knocked out the St. Louis Cardinals, the 2021 World Series Champions, the Atlanta Braves, and finally, the San Diego Padres from the 2022 postseason bracket.  Adding on to their improbable run, the Phillies stole game one of the World Series 6-5 in the 10th after being down 0-5 all through the fourth inning.  
"That," Phillies catcher and exceptional hitter, J.T. Realmuto said, "is a Phillies win right there."  
On Nov. 2, the Astros won game four and made MLB history with fantastic pitching from Christian Javier, Bryan Abreu, and Ryan Pressley as they threw the first combined no-hitter in the World Series.  By game 6, the Astros led the series 3-2 and only needed one more win to snatch the World Series championship title for the second time in franchise history.  
With the edge that the Astros had on the Phillies, Nov. 5 was the last day the Phillies could redeem themselves.  Philadelphia's Kyle Scwarber hit a homerun during the top of the 6th giving Philly a short-lived 1-0 lead.  However, during the bottom of the 6th, Philly brought in reliever Jose Alvarado who eventually gave up a 3-run home run to Yordan Alvarez, giving Houston a 3-1 lead over the Phillies.  From then on, the trophy was Houston's.  By the end of the 6th, the game was left at a 4-1 score, which remained until the top of the 9th when Houston made that last out and clutched the title of World Series Champions.    
"I'm still on cloud 9," World Series and American League MVP Jeremy Peña said. "I still haven't processed everything that has been happening, but thank you [fans], we did it."