Handmade gifts to share with your loved ones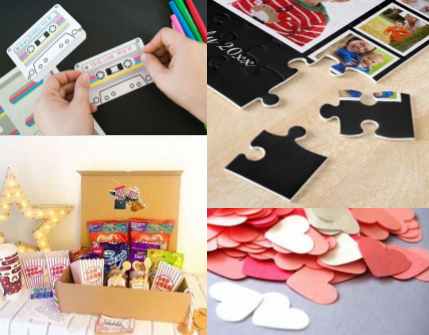 As students scramble to keep up with school, coming up with thoughtful gifts for their loved ones can be challenging. This year, instead of turning to Amazon, consider making something from your heart.
Heart Photo Album
This gift is a great way to capture your memories with someone. This heart-shaped photo album that unfolds when you pull on the album from the bottom. Cut up six paper hearts. Then, take a strip of paper as wide as your hearts are from left to right and fold the strip seven times in the same increments to create creases. Glue the hearts on top of each crease and print photos of your favorite memories with the gift recipient. Cut the images into hearts, glue them onto the paper hearts, and create a ring of paper to flatten down to the width of the strip. Glue that ring together and insert the strip inside the ring. If you pull from the bottom, the photo album will flip by itself! For more information about this project, check out @angelsign_ on TikTok.
Paper Cassette Tapes
This project is perfect for that music enthusiast in your life. Draw or paint an index card like a retro cassette tape. Afterward, create a Spotify playlist tailored to your special person, including either songs that remind you of them or some of their favorite tracks. When you've finalized the playlist, generate a Spotify code to print out and paste to the back of the drawn cassette tape.
Letters of Affirmation
If you want to comfort someone who is going through a rough time, these letters are your answer. Choose from a variety of origami envelope tutorials online and create as many envelopes as you please. Afterward, write tiny letters for each envelope. To truly make it a thoughtful gift, make sure the affirmations you write are specific to the receiver. Place your letters in a jar, so your loved one can open them whenever they need something to brighten their day.
Movie Box
Despite what the name suggests, this gift works for a variety of festivities from movie nights to sleepovers. Decorate a box with a specific movie or genre in mind. Then, fill the box with movie essentials like popcorn bags, boxed candy, and soft drinks. If you're feeling especially generous, include a DVD (for some retro nostalgia) of one of their favorite movies for your friend to rewatch as they please.
Personalized Puzzle
Have your friends piece together a mystery with this next gift idea! Purchase a blank puzzle from a local craft store. With this puzzle, write a message or an image special to you and your gift receiver. Your gift recipient will get to put together the pieces and see your appreciation laid out in front of their eyes. Consider including a frame for your friend to put the puzzle in after they are done, so it can be a cute wall decoration to memorialize your friendship.
All of these gifts are quick and easy, so consider trying one out this winter! A DIY present is an amazing way to let those close to you know how much they mean to you.