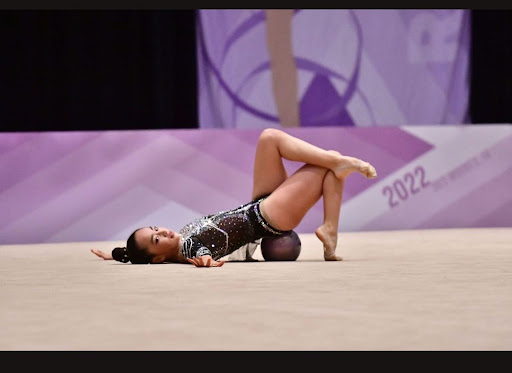 Currently on the ninth level of Junior National Rhythmic and Aesthetic Gymnastics and in her 
ninth year of school, Oxford's Carol Kim has set her sights to return to nationals along with qualifying for the final level of junior gymnastics at her next in-state competition next year.
USAG Junior Olympic gymnastics competitions have two distinct competitive programs referred to as Compulsory (levels 1-5) and Optional (levels 6-10), granting ranks to young gymnasts based upon USAG competitions. Starting at the young age of six, Kim was enthralled by mesmerizing acts of gymnastics, and realized around level 5 of her journey that gymnastics was a passion she wanted to pursue through the Optional levels. 
Kim's accolades list is extensive, including a national team member award, given to those qualified enough to be on one of the top junior teams in America, and placing third at the World Cup in Malaysia with her team under junior aesthetic gymnastics. 
Competing at the international stage at such a young age is no easy feat. With these competitions, Kim gains valuable competitive experience despite all the practice and pressure that goes with her routine. 
"When you first get there, you don't know where you're going and it's really nerve-wracking but once you compete several times, it starts to feel fun," Kim said. "You're really honored to be there and after [the competitions], all the teams exchange gifts, so that's a really fun experience."
For Kim, a usual week is divided by the days she works on rhythmic or aesthetic gymnastics. With her priority being aesthetic gymnastics — a group sport involving bold, flamboyant body movements — she spends four days practicing with her team, while dedicating two days for rhythmic practice, an event with an emphasis on apparatuses such as ribbons, clubs, and hoops.
Mondays and Wednesdays are the days she focuses solely on rhythmic gymnastics, Fridays and Sundays devoted to aesthetics, and a mix of both on Tuesdays and Thursdays. With a tight schedule, Kim utilizes her Saturday breaktime to finish up some homework and catch up on her favorite pastime: watching K-dramas. 
However, it hasn't always been smooth sailing for Kim. With the COVID-19 pandemic causing shutdowns and complications within the sports world, Kim reflected on whether it was the make or break of her career. 
 "At one point [I was like] this is too hard. I wanted to quit because it took a lot of time from my day," Kim said. "I couldn't hang out with my friends as much so at one point [during COVID] I really wanted to stop doing gymnastics but something inside of me told me that I should continue. That I could still accomplish something more." 
Staying true to her word, Kim is striving to accomplish more, specifically for the upcoming "Classics" competition which will take place in California around April. The "Classics" is a competition in which level nine gymnasts are challenged to qualify for nationals, where they can advance to the final level 10. 
Even though she has set her sights high, she doesn't plan to continue the sport past high school. She hopes that her experiences can be reflected in her future endeavors — and aspire others to never give up on their passions. 
"Keep going — if you really love this sport and if something isn't working, don't just stop and quit," she said. "If you really like doing it, and you want to pursue this further, then don't give up."