Demonstrators march through the Brazilian Capital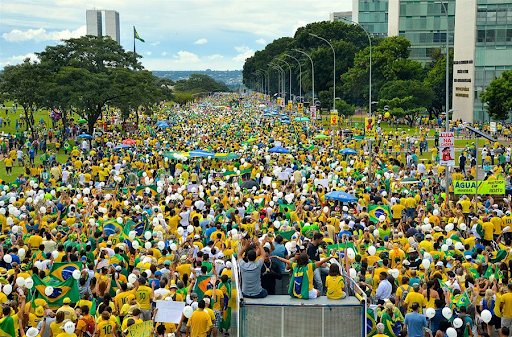 Rioters stormed the Brazilian capital on Jan. 8, in support of former president Jair Bolsonaro. Demonstrators overwhelmed security and swarmed Brasilia's top government offices, including the presidential palace, Brazil's Supreme Court, and the nation's Congress. Bolsonaro lost to leftist rival President Luiz Inácio Lula da Silva, who was inaugurated a week before the insurgency. Bolsonaro has denied accusations from Lula that he was linked to the mob attack. 
Prior to Lula's inauguration, Bolsonaro rejected results for the presidential election, despite lawfully stepping down. The pro-Bolsonaro demonstrators' distrust toward Lula's inauguration can be traced to previous charges of corruption in 2016, in which he was investigated for using gas, construction, and several other companies to obtain campaign funds. Coupled with distrust of Lula's past, the demonstrators also believed Bolsonaro's defeat was due to fraud and called for Lula's removal from office.
The demonstrators sprayed fire hoses in Congress, ransacked offices in the presidential palace, and trashed the Supreme Court building; in response, police officers fired tear gas and made hundreds of arrests. Despite their efforts, officials like public security chief Anderson Torres faced criticism for allowing the riot to escalate, while Lula accused public security of "neglecting" their duty.
The election was close, with Lula tallying about 60 million votes while Bolsonaro garnered 58 million. Bolsonaro was known as a conservative with strong ties to the military that favored an open market economy, allowing privatization of state companies. Lula's goals, on the other hand, prompted fears from pro-Bolsonaro protestors that Brazil would become a communist country. Lula's policies are more to the center-left, prioritizing aid for Brazil's poor, protection of the Amazon rainforest, and restrictions on guns which Bolsonaro was lax upon. 
Amidst the turmoil in the capitol, Bolsonaro has been residing in Orlando, Florida since late December, not making public appearances. His prolonged stay in the U.S. could lead to an international debate on his right to remain in the country if Brazil issues for his return.
"The United States should revoke any visas held by Jair Bolsonaro and if Brazil requests Bolsonaro's extradition… we should fully comply," Joaquin Castro, a member of the House foreign affairs committee, said via the Guardian.