HOSA SLC Recap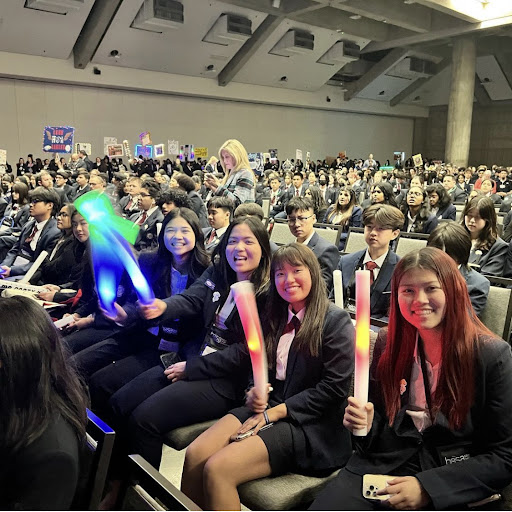 From March 23rd to 26th, Oxford Academy's chapter of HOSA–Future Health Professionals went to Sacramento for their State Leadership Conference (SLC), competing in various healthcare-related fields and attending workshops. With 87 people attending, OA-HOSA came home with 115 SLC merits. 
Hosted by SAFE Credit Union Convention Center, competitive events were categorized into Middle School, National Geographic Learning Academic Testing Center, Secondary and Postsecondary/Collegiate, Health Professions, Emergency Preparedness, Leadership, Teamwork, and Recognition. Along with these events, Oxford's achievements weren't only limited to academics though, as 25 students won gold for the Barbara James Service award and some won $1000 in scholarship money. 
Two different award ceremonies took place. The first one recognized winners from round one of the online health science SLC tests, also known as red events; these included topics such as behavioral health, dental terminology, medical law and ethics, and more. Oxford brought home 13 healthcare issues awards, two multimedia awards, and many others.
The second ceremony was longer and the main focus of SLC. The awards presented were based on results from student events completed in person at Sacramento, also known as blue events. With around 85 students placing top five for their respective events, Oxford Academy lived up to their exemplar reputation.
"Winning 1st [place] in HOSA Bowl was all the more rewarding knowing the journey that we took to get there," junior Erna Kumarasiri said. "After winning 3rd last year, our goal was to come home with gold. Every chance that we had we would study and it never really felt like a chore because the best part was that my team doubled as my friends." 
Along with awards, Cal-HOSA's State Officer Board for 2023-2024 were appointed.  This year, sophomore Matthew Kim was elected as Cal-HOSA Vice President and junior Megan Lloren as State Parliamentarian, continuing Oxford's 7- year trend of having two state officers.
"I'm extremely grateful that I was given the opportunity to serve at the state level," Lloren said. "I've been a part of HOSA for the past five years now, and I'm so honored that I get to serve my second family. HOSA is such a wonderful community, and I'm so happy that everyone elected me this opportunity to give back to the community that has given so much to me."
Mr. Jun Cuenca, Oxford's HOSA advisor, was recognized at SLC as well. Given the HOSA Hall of Fame Award, the state board of directors commended him for his outstanding service to HOSA, health and biomedical science education, and the health industry. 
These students still have more to accomplish. Since OA-HOSA had 100 individual and group Top 10 spots, they are eligible for the International Leadership Conference (ILC). ILC takes place in Dallas, Texas, from June 21-24th, giving our student representatives another chance to bring home the trophy. 
"ILC is just something of a dream come true, we've been wanting to go to ILC for the past two years now and it's finally going to happen," junior Andy Maldonado said. "We're super excited to meet people from all over the nation in one place and simply explore the workshops that are going to be offered. However, I'm excited to kick some HOSA bowl booty!"