LA City Council racist conversation leaked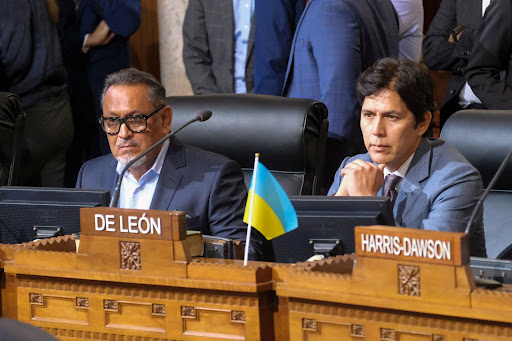 A recording of a private conversation between Los Angeles City Council members from Oct. 2021 was anonymously leaked on Reddit on Oct. 9. In the eighty-minute recording, former Council President Nury Martinez, Councilmen Kevin de León and Gil Cedillo, and the LA County Federation of Labor President Ron Herrera exchanged bigoted remarks, upending the city's political climate. 
Council members mocked Oaxacans, an Indigenous group from Southern Mexico, calling them ugly and reinforcing existing stereotypes. They also insulted Councilmember Mike Bonin's adopted Black son for misbehaving at a Martin Luther King Jr. Day parade when Bonin's son was around two years old. Martinez referred to Bonin's son as "that little monkey," saying he needed "a beatdown." De León compared Bonin's handling of his son to Martinez and her designer accessories while using derogatory terms to describe the child.
They also discussed redistricting strategies to maximize Latino political power within their council districts by containing key voter blocs and city assets — but at the expense of diluting Black votes.
The leaked recording caused an uproar from the community, including protests in front of De León's home and at council meetings. Politicians, such as President Joe Biden, Governor Gavin Newsom, and LA Mayor Eric Garcetti, denounced the council member's actions, calling for their immediate resignation.
Herrera was the first to resign, a day after the recording was released. Martinez also announced she was stepping down as City Council President and resigned on Oct. 12. A special election will be held in April 2023 to fill the position.
In contrast, neither De León nor Cedillo has resigned, despite already being stripped of their committee duties. Cedillo already lost his reelection bid in June and will be replaced by Eunisses Hernandez after his term expires in December. De León stated his refusal to resign, instead hoping to repair the relationships he damaged.
Bonin, as well as many other LA residents, found De León's apology insufficient in comparison to the severity of his actions. Nonetheless, De León's position remains unchanged, fueling the outrage.
"Kevin de León's comments are gaslighting of the highest order…He says he should have 'intervened,' as if he were a mere bystander to a racist conversation in which he played a central and ignominious role," Bonin said in a statement released on his social media.