Homecoming: Delights of Discophoria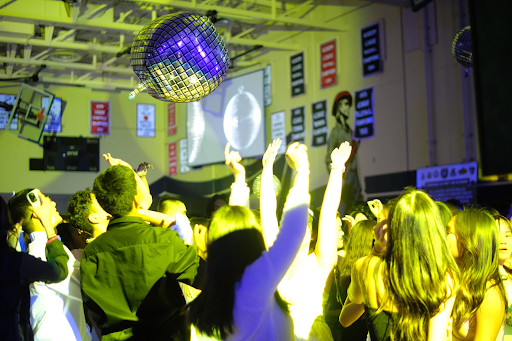 On Jan. 14, students entering Oxford Academy's gym were greeted with the 2023 Homecoming Dance.
Projectors shined colorful and psychedelic designs along the gym walls, bringing the flashy theme of discophoria to life. Flashing lights, purple balloons, and retro posters adorned Oxford's gym. On the dance floor, inflatable disco balls added flair to the crowd of dancing students. Throughout the dance, students lined up for its three photo booths that provided a memorable souvenir of the night. 
For entertainment, students also played foosball, air hockey, pool, and ping-pong. Partygoers refreshed themselves with pretzels, snacks, lemonade, and milk tea when taking breaks from dancing and games. Although the music choices had mixed reviews, many students had fun on the gym's dance floor. 
"I think the music could be more disco, it's not that fitting, and some of these photobooth lines are really long," freshman Tam-Ai Van said at the Homecoming Dance. "But other than that, I'm having fun!"
Overall, the Homecoming Dance provided a welcomed opportunity for high school students to bond and embrace school spirit, unwinding from the typical stress of school and starting the semester on a high note.
"We had positive feedback and of course some negative, but we can always use that to improve," Sophomore Class Committee president Leah Lee said. "I'm really proud of myself and SCC for planning and executing the dance pretty well."