Strutting the hallways and the runways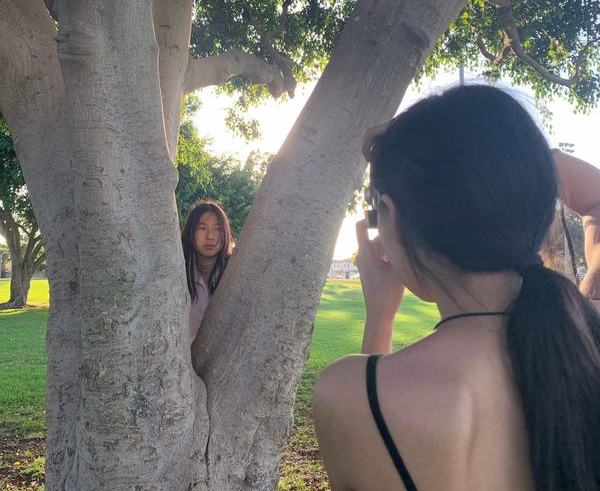 On their respective Instagram pages (@cellinexlee and @kailiquynh), senior Celline Lee, armed with her passion for photography, and junior Kaili Quynh, with her artistic nature, have carefully curated a gallery of artistic achievements to leave us all in awe. 
Lee, who stepped into the modeling industry in her sophomore year, has always had a passion for the visual arts. After applying to modeling agencies during the pandemic, she eventually signed into State Management, a fashion company based in NYC, LA, and Chicago. 
With two years of modeling on her resume, Lee has collaborated with famed brands such as Coach, Heaven, and Zara. She crowns Coach as her favorite collaboration as they first introduced her to New York in the fall of 2021 for their fashion week runway. 
However, the path wasn't so clear for Quynh. Originally an aspiring actress, her modeling career was unexpected. She started acting in 2020 but due to the pandemic, "nothing was really going anywhere." After publishing photos from a fun photoshoot, modeling agencies reached out to her for her first project, an editorial called Influx. She eventually signed under State Management like Lee. 
Quynh has a variety of projects under her belt, a recent one being her Choir Boy photoshoot which featured her on a billboard in LA.
When the two collaborated on one of Lee's personal projects, Lee's photography skills shone in her photoshoot of Quynh and was a perfect addition to their picturesque Instagram pages.
"I realized that Instagram is such a big tool in the creative industry. It's like a business card and a lot of people reach out to you via Instagram," Lee said. 
Since modeling is strongly intertwined with personal style, Lee has found that it has helped her reclaim her sense of identity after being inhibited by the OA dress code. 
"My personal style hasn't changed too much since I started modeling, but I do think that I've gotten more into fashion and how I present myself," Quynh said. "I've become more comfortable in dressing how I want to." 
It isn't always smooth sailing for them as they juggle school and modeling. For Lee, junior year was particularly stressful as she handled multiple board positions for clubs, being an editor on yearbook, and the acceleration of her career, all in addition to the typical rigor of junior year.
"With flights [to NYC] and everything, it made me feel burnt out because both [modeling and school] take up 100% of my energy, but I did it in the end," said Lee.
Performing in Show Choir and dance teams, Quynh thrives in the creative field and is also part of the JV tennis team. 
"I think that it's really important to make sure that you're prioritizing what you need to do in school but also choosing what you love to do. So then, your work doesn't feel like a chore." Quynh said. 
Despite the tough work, they both plan to continue working in the modeling industry, whether it be behind the scenes for Lee or in front of the camera for Quynh. They already have their next projects lined up — Quynh who has a test shoot with Vince Aung, the photographer behind Sabrina Carpenter's "Emails I Can't Send", and Lee with a couple of job options for brands she is fond of, such as Sephora. Seeing all they've done at such a young age, the years coming will definitely have more in store for them.